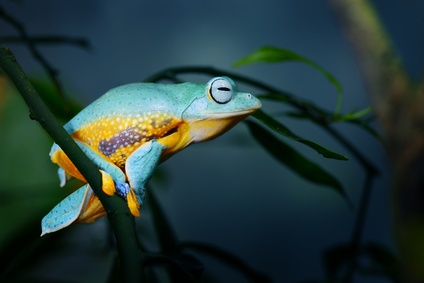 In this article, I am going talk about 2 concepts that seem to be contradictory, but very important in any goal you set in your life.
These 2 are being a critical thinker and having no doubt. Most people think these 2 cannot be reconciled. They think you cannot be a critical thinker who questions everything and a strong believer with no doubt.
As I explain here, you can have both qualities and so benefit from both a strong belief and critical thinking in anything you do.
But before I explain that, let me ask you if you have heard about the story of "The Centipede and The Frog"?
This story has a very valuable lesson in it that relates to this article…
The Centipede and The Frog
Centipedes can have hundreds of legs but they can walk with no problem and in complete coordination. The centipede in this story is no different. He was a happy centipede enjoying his life marching around with his hundred legs.
Until…
Until one day, as he was going on his merry way, a nosy frog sitting on a branch yelled: "Hey, with that many legs, how do you decide which leg moves first, and which one next?"
From that day on, the poor centipede would trip and fall left and right, thinking about his legs and how to move them. The nosy frog just had to ask and ruin centipede's happy life, didn't he?
Your subconscious mind knows how to handle all the steps you need to take to achieve your goals and attain your desires, even if there are hundreds of steps, but if you constantly think about it and doubt it, you'll keep falling like the centipede in the story.
Take action and don't doubt; Ignore the nosy frog.
The nosy frog comes in many forms. Sometimes in the form of your doubt, and other times it's the negative people around you…
The Way of Successful People
It's OK to be critical but you should be critical before you start a journey. That's when you should decide whether you should start the journey or not. But after you have started, there's no room for doubt.
That's how successful people operate.
You can doubt and question everything, and as an intelligent critical thinker you should. But once you have completed your analysis and decided to move in a certain direction, you must focus on action with strong belief and no doubt. There's a time for doubt and there's a time for strong belief. But there's no place for both at the same time. Can you imagine an Olympic runner who would stop in the middle of a contest and think: "Um, I wonder if this Olympics thing is something I want to do"? Not only he would lose in Olympics but would've wasted all his effort. He would've been better off calling off his Olympics ambition in the first place.
So spend some time to choose your direction, but once picked your direction, go full speed and with no doubt. Do not stop and doubt your direction before every milestone.
The same is true when you want to impress your subconscious mind and set your mind to achieve a goal. Once you decide to use visualizations and manifestation sessions to program your subconscious mind, you must back it up with unshakable belief. Believing is the cornerstone of subconscious programming. You cannot try subconscious programming to see if it works. That doubt alone will destroy the whole process.
So perform your sessions with deep-rooted belief in the end result. Just ignore all the nosy frogs, and march towards your desires…